Description

Identity plate single punched – ID Tag – Dog tag
Children and adults can wear an identity tag. For example, think of older or sick people. An identity tag can also serve as a perfect dog tag or for items such as a suitcase as a luggage tag.
Punching
The identity plate is punched, or beaten. This will put the text in relief in the ID Tag. Because of this it can never fade. There can be 1 to 6 lines on the identity plate. Each line can contain a maximum of 15 characters. All characters are punched to the same size. This is therefore not dependent on the amount of text. Letters always come in capital letters. You can also use the following characters in addition to letters and numbers: Ö Ï Ü É Ë. ()! ? : # "', & * – + = / @ _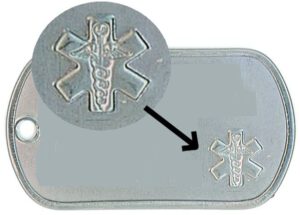 you can also have a heart die cut on the same format as the other characters. To do this, enter an uppercase letter i      with two dots: Ï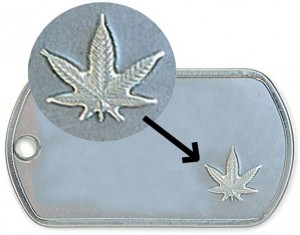 It is also possible to put a medical symbol and an image of a weed leaf on the ID Tag. This is only possible with the standard stainless steel tag. This means that slightly less text fits on the identity plate.
Necklaces and split rings
The identity plate is supplied with a ball chain as standard. You can choose the color of the necklace yourself. If you want to use the tag as a Dog Tag for the dog or attach it to something else, then a split ring / key ring is easy. You can also order this directly.
Different materials
The identity plates are available in different materials, each with its own characteristic:
| | | | |
| --- | --- | --- | --- |
| Stainless steel | Perfect for adults, children, animals and objects. | Very strong. | Unbreakable. Very long service life. |
| Painted stainless steel | Perfect for adults, children, animals and objects. | Very strong. | Paint can peel off. |
| Steel | Perfect for adults, children, animals and objects. | Strong | Colourfast. |
| Aluminium | Perfect for adults, but less suitable for children and animals. | Less strong. | Colored top layer can be damaged after a long time. |

Silencers
The silencers are intended as decorative borders. With multiple ID tags, they prevent the images from making a noise when you move (hence the name silencer). They make it more fun to see the ID tag. The silencers are less suitable for younger children or dogs because the edge is made of thin rubber and can therefore be broken or bitten.
The silencers appear round, but fit exactly to the standard ID Tag format.
Ordering & volume discount
Make a separate item for each identity plate with a different engraving. The more ID tags you order, the cheaper it gets. These can be the same ID Tags, but can also be a mix of identity tags. The volume discounts already apply from 3 tags.
After the order you will immediately receive a confirmation. Check it again carefully. Mistake discovered? Let us know as soon as possible by e-mail. Adjustments are no longer possible after production.
To send
An ID tag is produced especially for you. That is why it must always be paid in advance. The ID tag is sent for free in a special air cushion envelope to prevent damage.
This ID Tag is usually shipped worldwide without shipping costs within approximately 4 working days.