Description
These dog tags are available in different colors and in a variety of  letter types and images.
You see one example. There are various options possible. Printing on one side is free. But you can also have text on both sides. If you would like both sides printed be sure to choose this option. The price is automatically calculated.
The split ring used to attach the dog tag to the collar is free. As an additional security measure you can order an extra reflective sticker on the back.
The dog tag is sent in a special padded envelope to protect it. Because the tag will be specially produced for you, we ask you to pay in advance.
Directly after your order is received, you will be sent a confirmation. Please check this thoroughly. If you find any mistakes, let us know directly by email.
The standard letter type is Arial, however you also have an extra option to choose different letter types: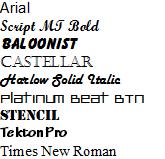 Tips:
The more text on the tag the smaller the result.
Capital letters take more space. For a more attractive result it is better not to use just capital letters.
Words such as 'Tel' take space and are often not necessary.
Do you know your neighbor's postal code two streets away?  A postal code is therefore not that useful for helping a lost animal to be returned.  A telephone number and address is much easier.