Description
Cheap dog tag
Cheap dog tag budget with free engraving and various extra options such as size, color, font and image. This cheap dog tag budget is usually shipped worldwide within 1 or 2 business days without shipping costs. These dog tags are engraved with our advanced engraving device to personalize your order. Text and optional images are hammered on the dog tag, so not engraved. Size 45 x 29 mm
Options
The image shown is an example. There is a colored border on the front. Text can be engraved within it. Engraving up to 2 lines of text is free. You can also engrave the dog tag on the back. You can use both lowercase and uppercase letters. By default the text of this cheap dog tag is engraved in Arial, the top line of which is engraved thicker when this is a (first) name. As an extra option you can choose from different fonts. As an extra safety measure you can have a reflective sticker attached on the back as an option.
Images or emoticons between the text cannot be engraved. You can choose from standard images. When you click this option, the images you can choose from are displayed. If you want an image or logo that is not shown, you can contact us by e-mail for the possibilities for customization.
You have the choice of these fonts: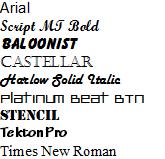 Tips:
The more text on the tag the smaller the result.
Capital letters take more space. For a more attractive result it is better not to use just capital letters.
Words such as 'Tel' take space and are often not necessary.
Do you know your neighbor's postal code two streets away?  A postal code is therefore not that useful for helping a lost animal to be returned.  A telephone number and address is much easier.
Ordering & volume discount
Make a separate article for each medal with a different engraving. The more tokens you order, the cheaper it gets. These can be the same tokens, but can also be a mix of dog tokens. The volume discounts apply from 3 dog tags.
After the order you will immediately receive a confirmation. Check it again carefully. Error discovered? Let us know as soon as possible via e-mail. Adjustments are no longer possible after production.
To send
A split ring to attach the budget dog tag to the dog collar is included for free. A dog tag is produced especially for you. That is why it must always be paid in advance. The token is sent free of charge in a special air cushion envelope to prevent damage.
This dog tag is usually shipped worldwide within 1-2 business days without shipping costs